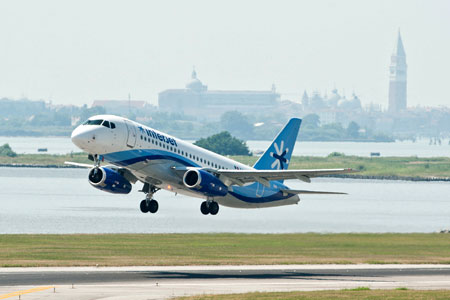 On July 20th 2013 the first Interjet SSJ100 aircraft (MSN 95023) started its ferry flight from Venice (Italy) to Toluca (Mexico).
The airplane took off from Marco Polo airport in Venice to stop in Reykjavik (Island) – Goose Bay (Canada) – Bangor (Maine, USA) – Washington D.C (USA) – San Antonio (Texas, USA) prior to its final landing in Toluca, Mexico.
The ferry flight is crewed by  two Interjet pilots, Capt. Diego Hernandez Esquivel and Capt. Juan Carlos Balcazar, with Capt. Agostino Frediani – Head of SuperJetInternational's Training Centre.
The aircraft will land in Toluca after a total of approximately 15 flight hours. The MSN 95023 is the first of 20 aircraft that will be completed and customized in Venice by SuperJet International in 2013 and 2014.