« All News
First Sukhoi Superjet 100 for Sky Aviation arrived to Indonesia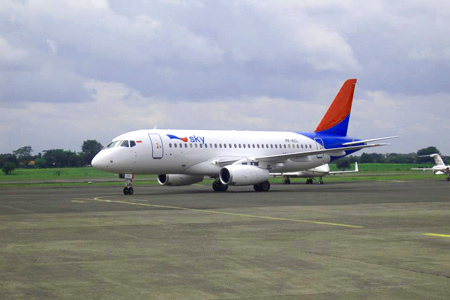 February 27, 2013
The first  Sky Aviation  Sukhoi Superjet 100 arrived in Indonesia. The aircraft,  Manufacture Serial Number 95022, is the first of twelve SSJ100 aircraft ordered by the Indonesian carrier.
Built by Sukhoi Civil Aircraft Company (SCAC) in its Komsomolsk-on-Amur assembly line, the aircraft completed its interiors' installation and painting in Ulianovsk site and finally flew to Jakarta Halim Perdanakusuma International Airport.
"The South-East Asia is one of the most attractive markets for us. We are proud to have a customer like Sky Aviation, which is one of the largest operators in Indonesia in terms of route-network extension to be operated with the SSJ100. Our state-of-the-art aircraft will offer new opportunities for Sky Aviation, also granting to its passengers the maximum comfort and an enjoyable way of travel" says Andrey Kalinovsky , recently appointed President of Sukhoi Civil Aircraft Company.
Sky Aviation, based in Halim Perdanakusuma International Airport (Jakarta, Indonesia), was established in 2010 and operates scheduled and charter flights in Indonesia.
"Our country is an archipelago comprising several islands. It is vitally important to provide a transport link among  them. The short-haul Sukhoi Superjet 100 is an excellent solution, when other aircraft operated by these routes would be unprofitable – said KrismanTarigan, Chief Executive Officer of Sky Aviation – Some airports in Indonesia have short runways with a consequent limitation for some aircraft types. . The SSJ100 perfectly fits these peculiarities as it can land in to runways shorter  than 1800 meters. We are sure that the SSJ100 will boost Sky Aviation revenues and passenger traffic" concluded Mr Tarigan.
In 2011 during the Moscow International Aviation and Space salon – MAKS – "Sukhoi Civil Aircraft" (SCAC) and the Indonesian carrier Sky Aviation signed a 380 mln. US dollars contract for twelve SSJ100 with a delivery in 2012 – 2015. The configuration of the first three aircraft features 12 business and 75 economy seats while the rest according to the customer needs will be delivered in 8 business and 90 economy seats configuration.
SuperJet International – joint venture between Alenia Aermacchi (a Finmeccanica Company) and Sukhoi Holding, also in charge of Customer Services and Training – has already completed successfully the SSJ100 Type Rating training of Sky Aviation pilots, as well as cabin attendants and mechanics, along with on-site support in Jakarta.
Last year SuperJet International and Sky Aviation signed a "SuperCare" Agreement with the launch for after-sales support of its SSJ100 fleet of up to 12 aircraft. SuperJet International will provide the Indonesian carrier Sky Aviation with customized spares availability and maintenance-repair solutions of on-board equipment for a term of 10 years. The agreement is worth up to USD 57 million.
Late 2012 Indonesian General Directorate of Civil Aviation validated the Type Certificate for the Sukhoi Superjet 100 aircraft (RRJ-95B). This validation confirmed compliance of the SSJ100 to the certification requirements of the Indonesian Aviation Authority, allowing its export to Indonesia and operations by Indonesian airlines without restrictions.