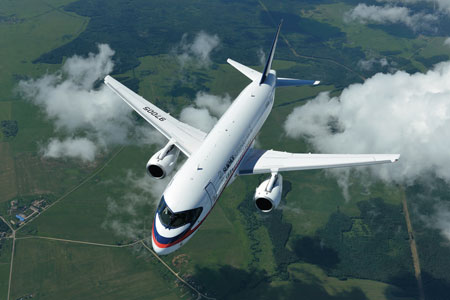 Frankfurt Hahn – October 9, 2017
On October 9, 2017 HAITEC Aircraft Maintenance Gmbh (HTC) and SuperJet International (SJI) signed a Service Agreement for first-class line and base maintenance on the Sukhoi Superjet 100 (SSJ100) aircraft.
This new cooperation follows HAITEC's achievement of the EASA Part.145 approval for line and base maintenance on the SSJ100 regional jet from the German Federal Aviation Authority LBA (Luftfahrt-Bundesamt).
The agreement with SJI will enable HAITEC to access the necessary services to provide the maintenance activities, including spare parts, ground support equipment and tools, training, aircraft documentation and engineering support.
All maintenance services to SSJ100 operators will be performed by HTC at its own facilities in Germany, initially in Erfurt and progressively in Hahn, as well as at the selected line outstations.
As approved Russian FATA.285 MRO organization, HTC has also applied for the SSJ100 approval from the Russian Aviation Authorities. Therefore HTC would become the first western MRO organization able to provide line and base maintenance services on a Russian manufactured aircraft in compliance with both European and Russian regulations.
Gereon Aron, CEO of HAITEC Aircraft Maintenance GmbH, states " We are delighted to be the 1st MRO in Europe to  offer Base and line Maintenance services to Operators of the SSJ100  in partnership with SuperJet International".
"SJI is very pleased to welcome HTC in its MRO network. We are confident that this partnership will smooth the access to flexible maintenance services to SSJ100 operators. The agreement confirms our commitment in providing the SSJ100 customers with a network capable of offering a wide range of services" states Stefano Marazzani, Chief Executive Officer of SuperJet International.
Today the SSJ100 operators can rely on SuperJet International's worldwide MRO network for first- class line and base maintenance services, including partnerships with selected MRO providers in Europe, Russia, Asia, Americas and Africa.