« All News
Interjet presents its new airplane SSJ100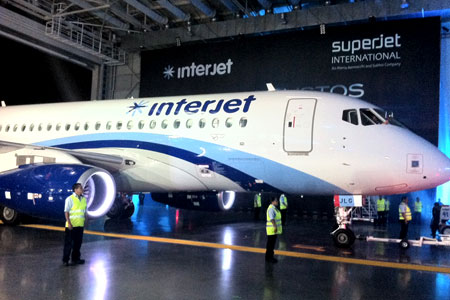 Mexico City, August 22th 2013
On August 22, 2013 during a ceremony Mr. Miguel Aleman Magnani, Executive President of Interjet, presented the first SSJ100 airplane:
"This aircraft provides the highest standards of quality and comfort in the worldwide commercial aviation and it is the first time that an aircraft with these characteristics starts operations in the Americas…. Compared to the other aircraft used to serve the domestic routes in Mexico, the Superjet 100 offers wider seats, higher height of the passenger and pilots cabin and more space for luggage inside.
The Interjet's Superjet 100 is the first Italian-Russian-French aircraft manufactured to meet the highest Western standards of air safety.
This aircraft will boost competitiveness of tourism and business within the country… In the last months Interjet opened nine regional routes that depart from Mexico City's international airport to destinations with high potential" said Mr. Magnani.
Mr. Nazario Cauceglia, Chief Executive Officer of SuperJet International, attended the event and addressed the audience and media confirming his satisfaction for this outstanding milestone in the SSJ100 Program.