« All News
LTLS operates a warehouse for SuperJet International in the U.S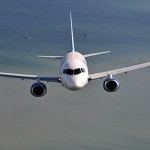 Extension of collaboration
Lufthansa Technik Logistik Services (LTLS) and SuperJet International are stepping up their collaboration. LTLS is supplementing the spares distribution center in Frankfurt by taking over responsibility for SuperJet International warehouse operations in Fort Lauderdale (USA).
By deciding for this supply set-up, SuperJet International and LTLS ensure a rapid and reliable spares provisioning for SSJ100 operators in the Americas. Because of its close proximity to the launch customer, Mexican airline Interjet, the LTLS warehouse located at the Fort Lauderdale Airport (FLL), has been selected as the optimum location. Fort Lauderdale serves as a hub for 27 passenger airlines with 65 domestic and 36 international destinations in Canada, the Bahamas, the Caribbean, Europe, Mexico, Central America, and South America. Miami International Airport (MIA) is close by, increasing the potential destinations.
With this set-up, LTLS is managing the SJI's stock positioned in Fort Lauderdale (FLL) including storage and handling of parts that are made available to customers. SuperJet International in turn is taking advantage of the strategic location of FLL warehouse to optimize the material flow in the Americas.
With the continuous development of a network of 8 strategically located branch offices in the U.S., LTLS is the specialist for aviation logistics in the North American market, offering an extensive range of services. "Fort Lauderdale's location in South Florida is uniquely suited to support customers in North, Central and South America. With this set-up, we are able to serve future customers of the SSJ100 anywhere in the region", states Stephen Fondell, Managing Director of LTLS in the U.S.
The launch customer LCC Interjet has ordered 20 SSJ100 and has options for 10 more. The first aircraft has been already delivered in June, the second one is to be delivered very soon. The airline has major hubs in Mexico City, Monterrey, Guadalajara and San Jose del Cabo.