« All News
SCAC AND ADRIA AIRWAYS: LOI FOR 15 SSJ100 AND MRO JOINT VENTUR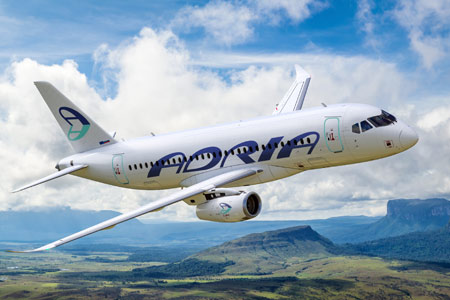 Munich, November 26, 2018 
Sukhoi Civil Aircraft Company (SCAC) and ADRIA Airways signed a Letter of Intent (LOI) for 15 SSJ100, stated today the Minister of Industry and Trade of the Russian Federation Denis Manturov. «The delivery is to be started at the beginning of 2019. They will be handed over under a long-term lease arrangement. In addition, both Parties signed a Memorandum of Understanding establishing an SSJ100 Maintenance and Repair Organization (MRO) at Ljubljana Airport (Slovenia)».
SCAC President Alexander Rubtsov, the CEO of ADRIA Airways Holger Kowarsch and AA Aviation's Managing Director Dr. Martin Vorderwulbecke indicated that the signed agreements opened a new chapter towards a strategic relationship between the Parties:
«It is our pleasure to partner with JSC «Sukhoi Civil Aircraft Company». They will totally support ADRIA Airways´ development strategy. During the past two years we were analyzing the SSJ100 type and came to the conclusion that all the technical and operational characteristics of this aircraft would suit best for our strategic goals» – said Holger Kowarsch. He also added that SSJ100 operation would allow offering more of the current CRJ and Airbus aircraft for ACMI service.
The JSC «Sukhoi Civil Aircraft Company» President Alexander Rubtsov stated: «We realize that the SSJ100 after-sales support at the entry to the European market should be organized profoundly and professionally. Together with ADRIA Airways, we will create a joint maintenance and repair organization for SSJ100 at the Ljubljana Airport. That service platform will secure the operational reliability of SSJ100 aircraft in Europe».