« All News
Sukhoi Superjet 100 in VIP-configuration Presented in India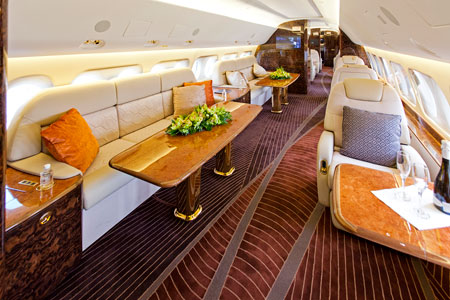 12.12.2014
On December 12, 2014 in the framework of the Russian-Indian Summit aimed at strengthening and development of bilateral relations between the two countries, the Sukhoi Superjet 100 aircraft in its VIP-configuration was presented to the Indian audience in New Delhi.
The presentation was held at Indira Gandhi International Airport. Two days before on board of the SSJ100 VIP flew a part of the Russian delegation headed by the Minister of Industry and Trade of the Russian Federation Denis Manturov for participation for the Summit.
The Sukhoi Superjet 100 was represented by Deputy Minister of Industry and Trade of Russia Yury Slyusar and the President of the United Aircraft Corporation (UAC) Mikhail Pogosyan.
Addressing the guests, President of UAC Mikhail Pogosyan said: "The first Sukhoi Superjet 100 in the VIP-configuration was built on the platform of the aircraft, which has already been successfully performed commercial flights both in Russia and abroad. Given that the Indian market is one of the most promising for the SSJ100, arrival of our aircraft here with the first passenger flight can be considered as a new page in the history of the Sukhoi Superjet 100 project".
The ceremony was attended by highlight officials representing the Government of India, namely, Ministry of Civil Aviation, Ministry of Trade and Industry, Ministry of Foreign Affairs, the Ministry of Defence. The presentation was also attended by representatives of the Federation of Indian Chambers of Commerce and Industry, Confederation of Indian Industry (CII), manufacturers of aircraft and its components, financial and research institutions. Airports and Indian airlines were also attending the event.
The Russian delegation arrived for participation for the Russian-Indian Summit by the Sukhoi Superjet 100 aircraft in new VIP-configuration. The aircraft operated a non-stop flight Moscow – New Delhi covering the distance of 4 738 km range for 6 hours and 05 minutes. Therefore, this flight has become the longest passenger flight operated by serial Sukhoi Superjet 100 aircraft.
During the flight passengers enjoyed comfortable interior of the Sukhoi Superjet 100, while the on board equipment allowed both working and relaxing.
For the first time the Sukhoi Superjet 100 aircraft arrived in India with a passenger flight. Previously, SSJ100 prototype was demonstrated to the Indian public in the framework of the third international exhibition «India Aviation 2012» in the city of Hyderabad.
Sukhoi Civil Aircraft Company evaluating the volume of the Indian market for the Sukhoi Superjet 100 aircraft for 50 aircraft until 2030.