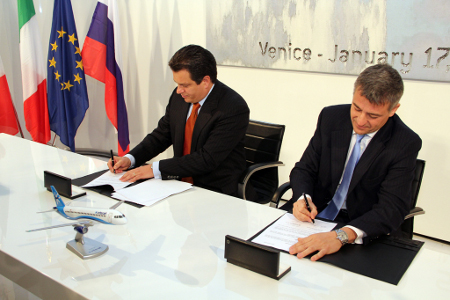 January 17,  2011
SuperJet International (SJI) – a joint venture between Alenia Aeronautica,
a Finmeccanica Company, and Sukhoi Holding – signed a contract today with Mexico's Interjet airline for the purchase of 15 long range Sukhoi Superjet 100 (SSJ100) aircraft in the 98 seat configuration, plus 5 options. Based on the list price, the value of the order is USD 650 million. The first deliveries are scheduled for the second half of 2012.
Along with the order, SuperJet International announced the execution of a "SuperCare" Agreement with Interjet to provide after-sales support of its fleet of new Sukhoi Superjet 100 aircraft for 10 years. The Interjet SSJ100 fleet will be supported by SJI with this tailored after-sales solution beginning with the aircraft's entry into service. The "SuperCare" agreement is a comprehensive "per-flight-hour" program developed by SJI specifically for SSJ100 aircraft operators. This innovative lifecycle solution has been designed to maximize aircraft availability to operators and minimize their maintenance and associated administrative costs.
With this new milestone, the Sukhoi Superjet 100 has received 170 firm orders.
The Sukhoi Superjet 100 program represents the most important industrial partnership between the Russian Federation and the rest of the world in the civil aviation sector.
The Sukhoi Superjet 100 is currently the best choice in the 100-seat aircraft segment because of its outstanding characteristics in terms of quality, comfort and operational costs.