« All News
The SSJ100 in its Business Version at Aero India 2015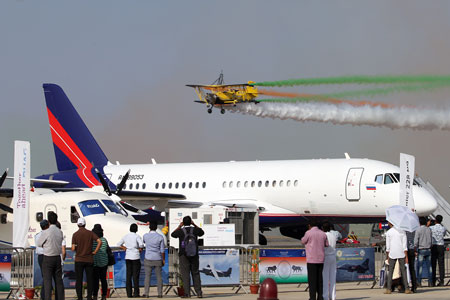 Sukhoi Civil Aircraft Company is going to show the business version of its Sukhoi Superjet 100 at Aero India 2015, an international large-scale static AeroExpo inaugurated on 18 February 2015 in Bengaluru (India).
The Sukhoi Superjet 100 was shown for the first time to the Indian public in Bengaluru at Aero India 2011, with participants and  visitors having the chance to see the prototype of the SSJ100  in its business version.
The business version SCAC is going to show at AeroIndia 2015 is based on the passengers' platform of the SSJ100. Thanks to its newly designed cabin interiors, the aircraft can offer an outstanding comfort for up to 19 passengers.