« All News
Transaero Airlines and SCAC signed a firm contract on delivery of six SSJ100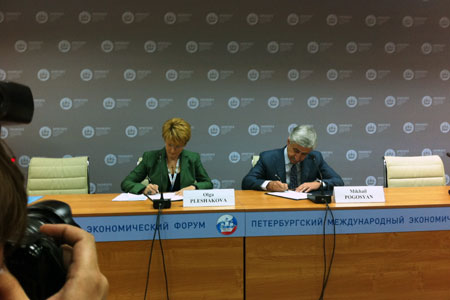 June 21, 2012, St Petersburg – In frame of the 16th Petersburg International Economic Forum JSC Sukhoi Civil Aircraft (SCAC) and Transaero Airlines, the second largest Russian carrier, signed a contract on six Sukhoi Superjet 100/95B aircraft with ten options. The firm order is valued at 212.4 million USD at list prices. The deal could reach 566.4 million USD if options are converted into firm orders.
The contract was signed by Transaero Airlines General Director Olga Pleshakova and President of the United Aircraft Corporation Mikhail Pogosyan on behalf of SCAC.
The SSJ100 aircraft for Transaero will feature a comfortable two-class 90-seat layout (8 in business class and 82 in economy class). Deliveries are scheduled to start in 2015 and continue through 2017.
"Transaero is committed to support Russian aircraft manufacturing with our firm orders. We chose Sukhoi Superjet 100 as the most modern Russian aircraft that is highly competitive with best models in its class. These aircraft in Transaero's fleet will contribute in meeting an important challenge for the Russian civil aviation – to develop an affordable regional route network in our country", stressed Transaero Airlines Director General Olga Pleshakova.
"Transaero Airlines is among the 50 largest air carriers in the world and ranks in the top five safest European airlines. Transaero's selection marks the recognition of our product's high quality and superior operating ability. I am convinced that the Sukhoi Superjet 100 will become an efficient tool that will be used by the airline in implementing its regional services development plan", said Mikhail Pogosyan, President of the United Aircraft Corporation.