« All
The First Sukhoi Superjet 100 Landed for Completion at SJI in Venice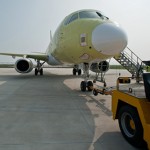 Venice, October 6, 2012
The first Sukhoi Superjet 100 (SSJ100) aircraft for the first western customer Interjet landed in Venice (Italy) at Marco Polo airport for the completion activities at the SuperJet International (SJI) facility.
On October 5th the "green" aircraft (MSN 95023) took off from Sukhoi Civil Aircraft (SCAC) assembly plant in Komsomolsk on-Amur (Russia), it flew through the airports of Novosibirsk and Zhukovsky (Moscow Region) and landed in Venice on October 6th at 12.35 (local time).
SuperJet International, joint venture between Alenia Aermacchi (51%) and Sukhoi Holding (49%), is responsible for the SSJ100 completion and delivery to the Western customers. The interiors' installation, customization and painting activities on Interjet aircraft will be accomplished at the SJI completion centre, based in Tessera (Venice) Italy.
SJI is also developing the "Supplemental Type Certificate" (EASA-STC) which allows to complete the aircraft interior installation. Interjet SSJ100 interiors will be marked by Pininfarina Italian Style."We are very proud to welcome the first Interjet SSJ100 in Venice – stated Nazario Cauceglia, Chief Executive Officer of SuperJet International – Today is a special day for SuperJet International marking the begininning of a new industrial activity in Venice. This important achievement was made possibile by the strong cooperation and excellent teamwork with our Russian partner SCAC. We will continue to work together in order to guarantee a high level of services and meet our customers' expectations".
Interjet represents the first SSJ100 customer in the western market. The Mexican airline signed a firm order with SuperJet International for the purchase of 20 SSJ100. All SSJ100 aircraft will be in a 93-seat configuration.
The first aircraft (MSN 95023) is expected to be delivered to Interjet in March 2013. In November 2012 the first FFS simulator will arrive in Venice and it will be installed at the SJI Training Center to enable the Mexican carrier's pilots to start training in January 2013.