« All News
Aeroflot Signed Agreement for the Delivery of 100 SSJ100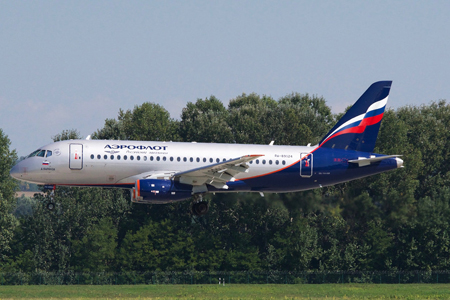 Aeroflot and the United Aircraft Corporation signed an agreement for the delivery of 100 of Sukhoi Superjet 100 (SSJ100). The document was signed by the General Director of JSC «Aeroflot» Vitaly Saveliev and the President of JSC «United Aircraft Corporation» (UAC) Yury Slyusar. The ceremony took place at the Eastern Economic Forum.
The agreement assumes the delivery of 100 Russian aircraft SSJ100 during the period from 2019 till 2026. The planes are to be delivered in two-class layout – 12 seats in the business class and 75 in the economy class. The complete contractual documentation is to be signed upon finalizing of all the essential terms of the contract and the appropriate corporate approvement.
Vitaly Saveliev, the General Director of the JSC «Aeroflot»:
– We signed the largest agreement in the newest history of the airline, the company will recieve another 100 modern Russian aircraft SSJ100. Taking into account the agreement for 50 MC-21 – and by 2026 our company will put on routes 200 Russian aircraft. Aeroflot has always performed the important role of the launch customer for Russian planes. Acting to the best interest of Russian aviation and the whole country is our absolute priority.
Yury Slyusar, JSC «UAC» President:
– The «Sukhoi Civil Aircraft Company» and Aeroflot are bonded with a long-lasting experience of collaboration. As a launch customer and the owner of the biggest SSJ100 fleet, Aeroflot influenced the project and Russian aircraft industry in general greatly. Signing the long-term agreement is a new page in this collaboration, another joint input in the development of the aircraft production. We are content that the work with the leading Russian airline continues.
Alexander Rubtsov, JSC «Sukhoi Civil Aircraft Company» President
– Cooperation between JSC "SCAC" and the national airline and the largest air carrier of the Russian Federation has become an invaluable experience, which occurred especially significant at the stage of operation launch. Aeroflot had sufficient impact on SSJ100 project development and further collaboration. The increase of the fleet via adding more Russian aircraft is the highest appreciation of our work and the sign that we are on the right way.
Currently the airline operates 49 SSJ100. The 50th aircraft of this type is to be delivered in the closest future. The first commercial flight on the SSJ100 was performed on June 16, 2011 on the route Moscow – St.Petersburg, the aircraft delivered its first passengers to participate in the XV St.Petersburg Economy Forum. Now SSJ100 perform domestic flights to Belgorod, Nizhny Novgorod, Orenburg, Perm, Saratov, Sochy, Syktyvkar, Tyumen, Chelyabinsk and to other directions. Moreover, the aircraft perform internation flight to Dresden, Vilnyus, Gothenborg, Bucharest, Zagreb, Ljubljana, Riga, Sofia, Tivat and others.