« All News
CityJet chooses the SSJ100 aircraft for fleet renewal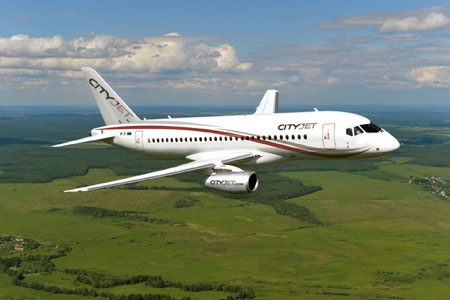 Berlin, 13 October, 2015
CityJet, the Irish European regional airline, today announced at the ERA General Assembly in Berlin that it has selected the 98-seat Sukhoi Superjet 100 (SSJ100) as the aircraft for its fleet renewal and network development programme.
An agreement has been signed by SCAC, SJI and CityJet Airlines for 15 aircraft plus 10 options.
Based on the list price, the value of the agreement is worth over 1 Billion USD, including options and services. The first deliveries are scheduled for the first quarter of 2016.
Superjet International (SJI) is a joint venture between Finmeccanica – Alenia Aermacchi of Italy and the Russian Sukhoi Holding.
The SSJ 100 seats 98 passengers and is the first aircraft in its class to offer five abreast seating in a generous 32" seat pitch. Combined with a wider seat and cabin height of over 2m, the SSJ100 offers more cabin and overhead bin space than competitors. The SSJ100utilises the latest in design and flight technology from key manufacturers such as Snecma (engines) and Thales (avionics) from France and Goodrich (wheels) and Honeywell (auxiliary power unit) from the USA. The interior benefits from Italian design house of Pininfarina. The aircraft achieved European Aviation Safety Agency (EASA) certification in February 2012.
CityJet has agreed to take four aircraft in 2016 with the delivery of an additional 11 throughout 2017. The airline has also taken options on an additional ten aircraft.
Cityjet will use the SSJ100 as the replacement for its fleet of Avro RJ85 which it operates across Europe, including London City Airport. The SSJ100 will achieve the necessary certification for London City operations by the end of 2016.
Along with the document signed, the execution of a "SuperCare" Agreement with CityJet was announced to provide after-sales support of its fleet of new Superjet 100 aircraft for 12 years. The CityJet SSJ100 fleet will be supported by SJI with this tailored after-sales solution beginning with the aircraft's entry into service. In addition, Cityjet crews are going to start their training on SSJ100  by the end of the year, utilizing the aircraft Full Flight Simulator at the Training Center in Venice.
The SSJ100, developed by Sukhoi Civil Aircraft Company, is an advanced and cost-effective commercial aircraft, built with state-of-the art technologies in aerodynamics, engine and aircraft systems. The Sukhoi Superjet 100 can be operated through short-to-medium range routes: the flight range of the SSJ100 reaches 4500 km.
The Sukhoi Superjet 100 program represents the most important industrial partnership between the Russian Federation and Europe in the civil aviation sector.