« All News
CityJet SSJ100 Makes its Debut in Farnborough 2016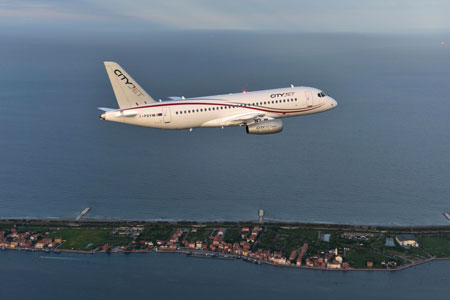 June 28th 2016
The Sukhoi Superjet 100 aircraft with the livery of CityJet airlines will be displayed  in the Farnborough International Airshow, which will be held from July 11th to 17th.
Dublin-based CityJet represents the first European customer operating the Sukhoi Superjet 100. The airline ordered 15 SSJ100 and further 16 options. The first SSJ100 is currently flying in Europe on the CityJet network.
After the Interjet SSJ100, which was successfully exhibited at Le Bourget and Farnborough airshows, this year the attendees will have the opportunity to appreciate the SSJ100 in the  CityJet colours and exclusive interior designed by Pininfarina.
"The debut of the CityJet SSJ100 at Farnborough is a special event for the SSJ100 Program. The selection of CityJet was based on the maturity level we reached on the supportability of the Program, combined with the superior economics in the European sophisticated theater" states Nazario Cauceglia, Chief Executive Officer of SuperJet International. 
"Presenting at Farnborough the SSJ100 of our first European customer is a big milestone – says Ilya Tarasenko, President of Sukhoi Civil Aircraft – today the SSJ100 Program is marked by a growing interest throughout the world, as it is a cutting-edge and reliable product in the regional aviation market. Owing to its business development and geographic expansion in operations, today the SS100 can be seen in 120 airports worldwide."
The SSJ100 aircraft of CityJet is in the 98-seat configuration, five abreast seating in a generous 32" seat pitch combined with a wider seat and cabin height of over 2 meters.