« All News
SCAC branch in Komsomolsk-on-Amur Celebrates its Tenth Anniversary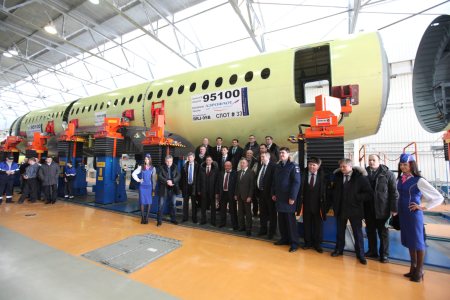 The Sukhoi Civil Aircraft Company (SCAC) branch in Komsomolsk-on-Amur (KnAF) celebrated an important event in the Company's history: the tenth Anniversary of SCAC branch in Komsomolsk, which started the aircraft assembly on February 1, 2005.
Today about 1300 employees work at the SCAC branch in Komsomolsk-on-Amur. The facility represents a leader in the civil aircraft industry in the Russian Federation.
"During this period a large amount of work has been done in terms of facility modernization and introduction of new technologies" the  President of SCAC Ilya Tarasenko noted.
In these days another step ahead has been done in the Sukhoi Superjet 100 Program's development. In fact, on January 31, 2015 SCAC branch in Komsomolsk-on-Amur started the assembly of the 100th Sukhoi Superjet 100 aircraft with 95100 production number.
These two anniversaries mark an outstanding milestone for SCAC and the SSJ100 Program.