« All News
SSJ100 Certified for Operations on Narrow Runways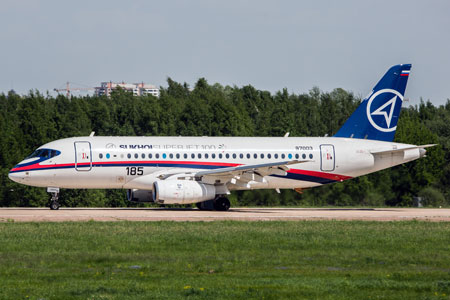 July 08, 2014
In June 2014 the Aviation Register of Interstate Aviation Committee (IAC AR) confirmed that the Sukhoi Superjet 100 can be operated on narrow 30-meter-wide runways.
Operation conditions of SSJ100 were expanded under certification program. This allowed taking off and landing on the runway which is 30 or more meters wide. The Program did not require any changes in design of the aircraft or its systems.
This certification program ran from February till March 2014 and consisted of two stages: simulation and flight tests. Two test aircraft took part in flight tests, which were performed at Ramenskoe aerodrome (near Moscow), as well as at "Karlovy Vary" international airport in Czech Republic where the runway is 30 meters wide.
Tests demonstrated that the SSJ100 aircraft is able to take off and land successfully on the narrow runway, no matter whether it is dry or wet, and with simulation of aircraft functional systems' failure including rejected take-offs.
This Supplemental Type Certificate will allow SSJ100 operators to increase the number of possible destinations as part of current ground air transport infrastructure.