« All News
SSJ100: One Year of Successful Operations by Yakutia Airlines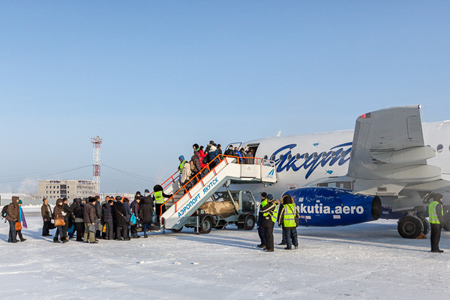 A year ago, on January 23th 2013, Yakutia Airlines performed its first commercial flight with the Sukhoi Superjet 100 from its base airport in Yakutsk (North of Russia) to Khabarovsk.
Starting from the Entry into Service, the two SSJ100 aircraft currently operated by Yakutia (RA-89011 MSN95019 and RA-89012 MSN95020) accumulated 2660 flight hours for 1084 flight cycles.
"The SSJ100 is being successfully operated by the airline even during sever Yakutia winter, when the temperatures can fall below 50 degrees – says Andrey Kalinovsky, President of Sukhoi Civil Aircraft Company – Yakutia  consistently demonstrates high figures of the SSJ100 operations in different environmental conditions, which confirms the announced performance characteristics of our aircraft".
With the SSJ100 Yakutia Airlines connects not only the cities of the Far East, but also destinations in China and Japan. Yakutia performed the first commercial flight with the SSJ100 from Russia to Asia along the route Yakutsk – Harbin in February 2013.
"We are getting positive feedback aircraft both from flight crews and passengers. Our pilots highly appreciate performance of the SSJ100 aircraft" noted Ivan Prostit, the General Director of Yakutia Airlines.
Through a "SuperCare" Agreement, SuperJet International (SJI) has been providing Yakutia with customized spares availability and maintenance-repair solutions of on-board equipment since the SSJ100 EIS. In addition SJJ, which is in charge of worldwide after-sales services and training for the SSJ100 customers, provided the airline with Flight Crew and Maintenance staff training courses, along with on-site support in Yakutsk.