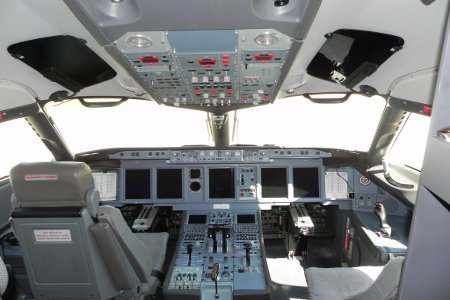 July 3, 2012, Venice
SuperJet International Training Organization achieved the Type Rating Certification on the SSJ100 (RRJ95B) issued by EASA.
Four SJI pilots – instructors and examiners –  are the first western pilots to obtain the Type Rating to fly the SSJ100 aircraft in the countries recognized by EASA airworthiness regulations.
The Certification represents an important milestone for the SSJ100 program which can now benefit from this additional training qualification confirmed by the European Airworthiness and Safety Agency. Now SJI Training organization is able to extend the SSJ100 training to pilots licensed in those countries recognized by  EASA rules.
During their professional careers Capt. Agostino Frediani, Capt. Carlo Occhiato, Capt. Alberto Zucconi Galli Fonseca and Capt. Luciano Fornari flew a total of over 50.000 flight hours and made 5.000 hours of simulator training.
The Type Rating has been issued by the European Aviation Safety Agency (EASA) and follows the SSJ100 (RRJ95) Type Certificate by EASA.
SuperJet International Aviation Training Center in Moscow has been  approved by the Russian Authority RosAviaciya, in accordance with the Russian Federal Aviation Order 23, in January 2012 and it is currently providing training on SSJ100 type to aviation and maintenance personnel.
SuperJet International's Flight Training Organization counts on 15 pilots: 2 test pilots acting as TRI/TRE (Type Rating Instructor), 4 TRI/TRE (Type Rating Examiner), 5 TRI, 4 SFI (Synthetic Flight Instructor).
Up to date over 100 pilots of both Aeroflot and Armavia airlines completed the training courses at the SJI Training Centers.
These courses, provided in English and Russian, were managed by SJI's international and professional team coming from different countries (Italy, Russia, Lithuania, USA and Germany), who proactively participated in the lessons. The Training programs were accomplished by using temporarily a flight Training Device (FTD) and since November 2011 a Full Flight Simulator level C available at the TC of Zhukovsky, Moscow.