« All
Russian and Italian Leaders Tour Sukhoi Superjet 100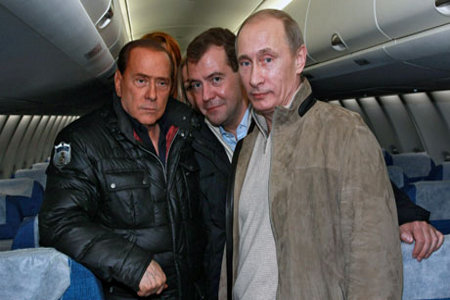 December 6, 2010, Sochi
Last week the Sukhoi Superjet 100 was presented to Demitry Medvedev, President of the Russian Federation, Vladimir Putin, Prime Minister of the Russian Federation, and Silvio Berlusconi, Prime Minister of the Republic of Italy.
The aircraft, #95005, which was presented to the leaders of the two countries, is similar to the standard production aircraft configuration and includes a complete passenger interior.
The SSJ 100 program is the largest cooperative project between Russian and European aviation industry. The new regional airliner has been developed in partnership between Sukhoi and Alenia Aeronautica, a Finmeccanica Company.
During their visit, the leaders of Russia and Italy noted the aircraft's commercial potential in both the Russian domestic and international markets.
The current backlog for the SSJ 100 is 155.
Last week, the SSJ100 began route proving tests, entering the final stage of it's certification campaign. After having received its experimental airworthiness certificate from AR IAC, the aircraft has successfully conducted 14 flights on the Moscow-Ufa-Moscow route, on the Moscow-Orenburg-Moscow, Moscow-Yekaterinburg- Moscow and Moscow-Chelyabinsk-Moscow routes. All are domestic Aeroflot routes.
The experimental airworthiness certificate also allows pilots to begin training on the aircraft. In December 2010 the SSJ100 will complete the AR IAC certification campaign with the deliveries to follow right after.The EASA certification is scheduled for Q2 2011.