« All
Sukhoi Civil Aircraft to Deliver the Third SBJ to the Royal Thai Air Force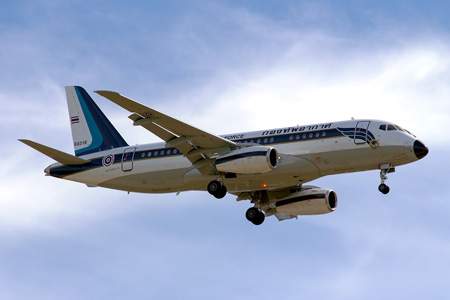 Moscow, 15 December 2016 – JSC Sukhoi Civil Aircraft (SCAC), SuperJet International (SJI) and the Royal Thai Air Force (RTAF) signed a contract for the delivery of another Sukhoi Business Jet (SBJ). This aircraft represents the third SBJ, that will join the fleet of the Royal Air Force of Thailand in 2018.
The deal confirms the steady cooperation between SCAC and RTAF, that began in September 2014.
RTAF received two SBJ under the previous contract in July 2016. The previous SBJs for RTAF fleet have three areas: 4-seat VIP area, 6-seat business area, and standard area accommodating 50 passengers. 
The third aircraft will be delivered in a two-cabin layout with common zone for VIP and business class and will have greater capacity – up to 73 passengers, including 4 VIP passengers. It will be equipped with the latest passenger comfort systems, including various types of communication and the Inflight-Entertainment multimedia system. Its operating range is more than 4500 km.
The SBJ, including the interior, is built and assembled at the production plant in Komsomolsk-on-Amur (Russia). SCAC will also provide the after-sales support on site in Thailand. Crews' education and training will be held at SuperJet International's training center in Venice. The aircraft is scheduled to be delivered in 2018.
To date, SCAC has delivered 111 aircraft to several customers in Russia, Central Europe, Central America and Southeast Asia. Eight of them are the aircraft in the business configuration (Sukhoi Business Jet) and jets with special purposes (air hospital for EMERCOM, for border aviation regiment).