« All
The Sukhoi Superjet 100 Achieves Certification for CAT IIIа ICAO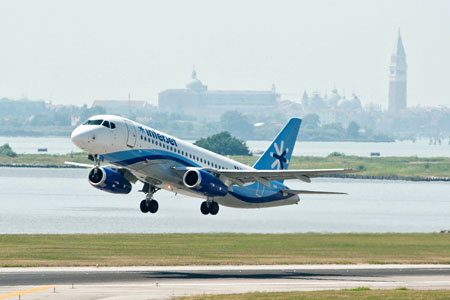 On June 20, 2014 the Aviation Register of Interstate Aviation Committee (IAC AR) confirmed the capability of the Sukhoi Superjet 100 aircraft to execute automatic landing under CAT IIIa ICAO.
This Supplemental Type Certificate allows the SSJ100 landing in complicated weather conditions, when runway visibility does not exceed 175m, including landing with up to 10 m/s flank wind, when the airport has the respective certification and crews are certified to perform flights under CAT IIIa minimum.
Sukhoi Civil Aircraft Company successfully performed wide range of tests to evaluate the SSJ100 aircraft characteristics in respect of automatic landing under CAT IIIa using all combinations of operating weights and centers-of-gravity, with simulation of crucial engine failure at different segments of descent path and at stiff wind.
Total test program within the period from November 2011 till December 2013 exceeded 250 hours and involved three test SSJ100s. The total amount of automatic approaches during performance of flight tests amounts to 425.
The SSJ100 capability to perform landing in bad weather conditions and low visibility becomes a considerable competitive advantage for the airlines which have this type of aircraft in their fleet.
Another Supplemental Type Certificate widening the operational scope of SSJ100 in respect of flank wind strength constraints on the runways with poor traction has also been already received.