« All
Volga-Dnepr Technics signs maintenance services agreement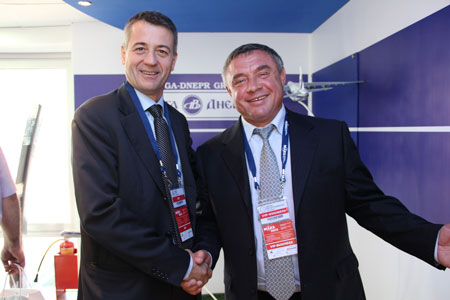 August 16, 2011, Moscow
SuperJet International (SJI) – a joint venture between Alenia Aeronautica, a Finmeccanica Company,  and Sukhoi Holding – and Volga-Dnepr Technics, part of Russia's Volga-Dnepr Group, have signed a Letter of Intent for the provision of maintenance services for the Sukhoi Superjet100 (SSJ100) aircraft.
The agreement was signed during the International Aviation and Space Salon MAKS 2011 in Zhukovsky, Moscow Region. This LoI confirms the partnership established between SJI and Volga-Dnepr Technics that with its certified aircraft maintenance, repair and overhaul (MRO) facility at Ulyanovsk Vostochny airport has joined the SJI's MRO network of Authorized Service Centers to provide maintenance services to SSJ100 Operators.
In Ulyanovsk, Volga-Dnepr Technics is establishing a state-of-the-art multi-functional MRO facility to meet current international operating standards also benefiting from its location within a Special Economic Port Zone.